Movie: Blackfish (Documentary)
Overall movie score: 5
(1 being screw the whales and 5 being burn seaworld to the ground)
Point breakdown:
Capturing
Sealand and Loro Parque
Punishment and aggression
Death and injuries
Lies and denial

Finial critiques:
(Spoilers)
I'd like to begin this article with if anyone who has a heart watches this movie and doesn't want to burn Seaworld down to the ground then I as a human-being will lose faith in all of humanity. This movie really reminds people that wild animals should not be captured and forced to live in the confines of captivity. We as a civilization have lost sight of the fact that not only are we destroying our own habitat but we are also depleting every other living things environment as well. So as a solution we created things like theme-parks and zoos/aquariums to rectify the still increasing amount of damage we've already done and are still doing. So instead of trying to turn it around and putting all energy into trying to create a better natural habitat where these creatures reside we think it's better to take them away from their families and cram them into metal/concrete cages. Maybe it's just me but I fail to see the logic in that solution. Granted there have been occasions where a species comes close to extinction (of course it's normally our fault) and some centers around the world have helped repopulate those species to avoid extinction but i still strongly feel like we shouldn't capture animals for our own personal pleasures. Yes seeing "Shamu" perform at Seaworld is breath taking and majestic but it sort of loses it magic when you realize how unhappy the animal truly is and how most of the tricks were taught by with holding food. I'd do a back-flip if I was starving too.  
1) "Capturing" aka kidnapping
In the beginning of the documentary it discusses in detail the methods used in the early 70s of capturing Killer Whales. John Crowe, one of the men who actively participated in the capturing of the Orcas during this time relives his experiences. According to John the process required a few boats and an air spotter to track the pods into coves where then they'd drop nets around the pod and proceed to capture the calf's. Once the selected calf's were being secured for transport they'd drop net and allow the rest of the pod to swim back out into open water. What was really heart wrenching was seeing how the pod refused to leave the area that their young was kidnapped from. The distress cries from the calf's in my opinion would have been more then enough to crack even the hardest of men into releasing these poor babies back into the the wild to be reunited with their mothers. So although John Crowe seemed as though he was having a hard time battling with the demons of his past with capturing Orca I feel absolutely no pity for that man. Job, no job I would cut them free while screaming bloody murder if anyone tried to stop me but alas he continued for many years. Whats even worse is not only did they cause trauma in the young and pod they also ended up snarling and killing some of the whales in the nets while they were kidnapping the calf's. Talk about some serious foreshadowing for their future in captivity. If it starts bad it's probably going end bad. 
2)  Sealand and Loro Parque
So as soon as these poor Calf's were ripped away from their mothers they were sold into captivity. Tilikum was one of these calf's sold to Sealand; a small (I can't emphasize what I mean when I say small) marina in Canada. The pictures and footage of the facility alone were down right own horrific. I can't even possibly fathom how the employees weren't outraged by the areas in which the three killer whales were housed. I mean I don't like Seaworld but even their holding areas are bigger then this floating sea box. Canada you should be ashamed of the fact that this type of theme-park was even allowed to be opened.
(Below is a picture of SeaLand)
(Below is a picture of the holding sheds where the three Orcas were held at night and long time periods during winter)
With that being said although Loro Parque appeared to be bigger it still was poorly constructed and both facilities were staffed with unqualified employees.  The main difference really was SeaLand didn't allow employees to swim with the Orcas and Loro Parque did. Either way caging these wild creatures in small arenas not only damages their body physically but also causes agitation in the animals.
(Below picture of Loro Parque)
(Below is a picture of dorsal collapsing in captive Orcas)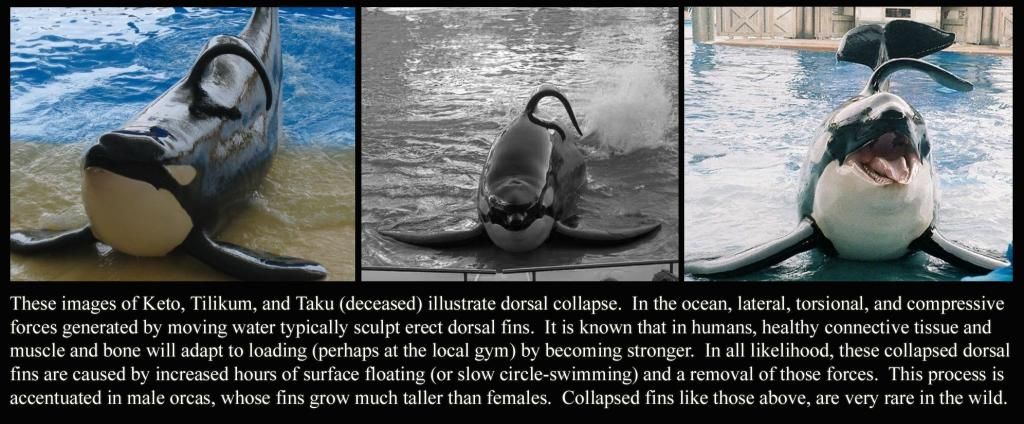 (Below is an image from Loro Parque where due to a poor facility and under trained staff the whales had stomach problems and mouth problems)
3) Punishment and aggression
As far as I know killer whales are born and end up dieing with their pods so when you take calf's away from their pods and then force them into a new pod chances are they simply tolerate each-other and end up being aggressive to assert dormancy. In Tilikums instance when he was introduced to two adult females at SeaLand the way the trainers trained Tilikum was by withholding food from all three of the whales so that way the two females would punish Tilikum by raking him (tooth-scratching) forcing him to realize if he didn't cooperator then he'd get hurt by the adults. I don't know how everyone else feels but I have to say that this is some Saw(movie) bullshit… I mean although Jigsaw didn't actually physically kill anyone he still technically murdered people just like the trainers didn't actually hurt their whales they did indirectly knowing full well he'd be hurt. Sealand isn't and wasn't the only place that used this indirect method of punishment.
(Below Raking (tooth-scratching) )    
(Below captured photo of punishment amongst whales)
Yes I'm pretty sure Orcas practice this form of punishment in the wild but I doubt that it's as bad as in captivity. I mean the great thing about the open ocean is they have space to spread out and not get into fights as much unlike when your stuck 365 days a year in close quarters with each-other. These trainers know full well what their doing promoting negative behavior amongst the "pod" and then turn around and ask why the whales can be aggressive? it makes no damn sense.
Speaking of which withholding food to produce entertainment is just down right out wrong. Killer whales (if have seen other documentary's about them) are very smart, very big on family ties and also very skilled hunters. If you really think your 100% safe around these large predators then your an idiot. Not to mention you've kept them in a tank for most of their lives, I'm pretty sure they get real tired of your shit when you withhold things from them. Lord knows I would.
4) Death and injuries
(Below Seaworlds Forms)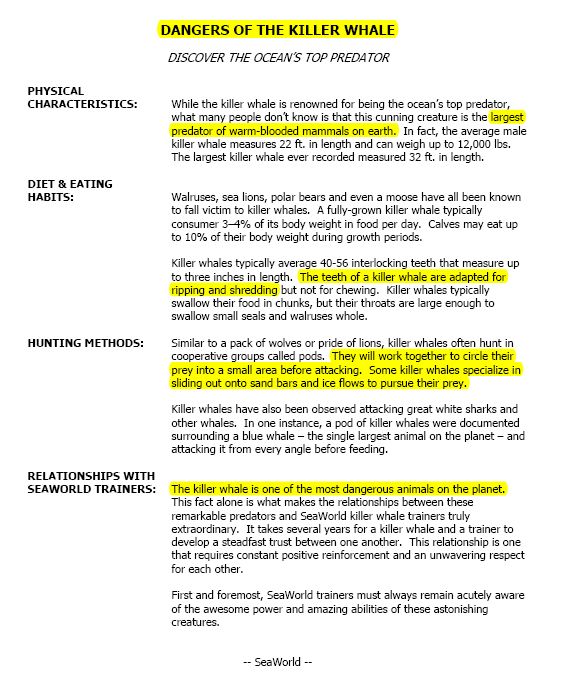 I still do find it deeply tragic when I hear about poor trainers/people being injured or killed while interacting with these large animals. According to the the film I don't think anyone has been harmed by wild Killer Whales and that the only recorded incidents are captive whales. I feel like that one sentence sums up why they shouldn't be captured and held captive because I'm sure the relationships with the trainers might be forged but it's still a wild animal and your still training it with treats. I mean its not that shocking to hear about a lion mauling a trainer but it's so hard to believe "shamu" had a nervous break down and killed a trainer. I mean really? these whales have the word "killer" in-front of their names not to mention aside from Great Whites (which they've proven killer whales eat) their pretty much at the top of the food chain in the the wild. I personally think their scarier cause they travel in pods and they use their cunning to capture prey, sharks just use instincts. Anyway in the documentary they talk predominately about five incidents three of which were fatalities. On December 24th 2009 Alexis Martinez trainer at Loro Parque was killer then not even a year later February 24, 2010 Dawn Brancheau who worked at Seaworld in Orlando.
(Below picture of Alexis and Dawn)
(Below Dawns autopsy report)
At Loro Parque apprentice trainer Claudia Vollhardt was attacked and nearly drowned by Tekoa in October of 2007 so the signs of aggression were already there. Granted it was a different whale then the one Alexis was killed by but hey. That's not even mentioning all the horrible little incidents like trainers being pushed or pressed against tank walls or even being lunged for. One of the biggest ones recorded was with Ken Peters on November 29th 2006 where the orca grabbed his feet and drug him to the bottom of the pool. 
(Below Ken Peters being drag down)
And still we are shocked when it keeps happening again and again with captive whales.
5) Lies and denial
The longer I write this review the deeper I get into research that I not only saw during the documentary but also things that it didn't touch base on. The ungodly amount of signs showing that killer whales can be aggressive and possibly dangerous is seriously high. But the fact that these organizations such as Seaworld are so hell bent on making these large awesome predators out to be gentle giants is baffling. I mean they even go as far as lying about the incidents. Dawn for example they summed it up with how it was her fault for wearing a pony tail, claiming that's how Tilikam grabbed her and killed her so that it doesn't seem like it's their or the whales fault. I do agree that you know very well your signing up for a possible dangerous job BUT he didn't grab her pony tail and they knew this because they read the autopsy report. He grabbed her arm and pulled her in. No ones really sure if it started as aggression or just playing but none the less they had the nerve to deny justify and blame and she wasn't even buried yet. What really works my tits is that wasn't even the first time they lied! During some prior aggressive attempts people were forced to deny it and destroy evidence. I don't know about you but that's just fucked up and it really needs to stop.
(Below Believe email)   
Closing opinion:
This documentary was such a huge eye opener and if you were to ask me "Would You watch it again?" I would and I'd say I'd tell EVERYONE to watch once or even a few times and spread the word. It will make you cry, it will make you angry and it will leave you wanting to make a change. Honestly I feel like I want to go boycott Seaworld or even any organization that traps animals against their will. I think it's time as a civilization that we evolve and realize not to try and change nature but live and grow with it. Free the killer whales, let that be the beginning of a new us where we coexist not destroy.
Written by: Admin GemmaLouWho